7 tags
Exhibitions in the Past
5 tags
6 tags
Watch
In conclusion the experiments could be transformed into an environment that is in a sense more abstract boundary or envelope, it can be a space-changing enclosure which is not solid as the traditional architectural envelopes. Therefore this boundary/envelope will be a translation between a context – the human beings and process – the biological species' movement so the design will be transformed...
6 tags
Inspiration Nature
Living architecture The research is a design study for finding new alternative solutions for creating a design strategy; for the possibility of creating "space-changing" environments with a constant development held in them (like the organisms' development through a life span). Furthermore the thesis is about the patterns of behaviour derived from biology and nature and the possible...
5 tags
Biomimicry: Culture vs Nature
Biomimicry: an alternative strategy for exploring new ways of designing Different biological analogies in architecture and the arts have been made for centuries and many architects and artists looked for an inspiration in nature. Nowadays there is a predisposition in architecture in relation to biology for a research in evolutionary biology and evolutionary algorithms, artificial intelligence,...
6 tags
Unfolding architecture and kinetic patterns
Kinetic diagram of the rotary locomotion     "Kinetic pattern is ephemeral – clusters, thickenings and gradients of movement." Experimentation in kinetics and architectural skins is introduced more widely recently. Facades and elements are transformed in kinetic living creatures changing in synchrony with the environment. The kinetic quality of the locomotion and the bio-mechanisms that are...
Architextiles
"A new generation of giant-scale textiles is at the core of a revolution in architecture." S Hanna and PA Beesley  An underlying accent in the installation is the exceptional use of uncommon materials – namely the use of fabric. The relationship between architecture and textiles has an ongoing history and there are vast developments in the last 20 years. Therefore the qualities of textiles...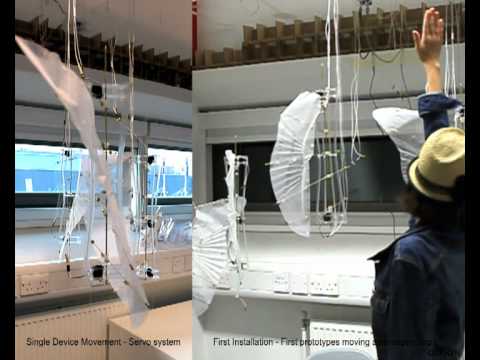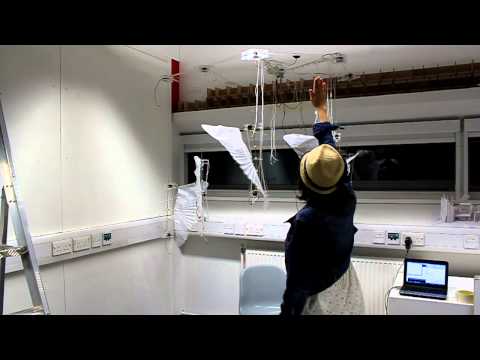 4 tags
Making as e design process
Making is an essential part in the design process for testing the underlying principles and ideas of Bionics. Through the development of the thesis technological and mechanical problems were becoming aesthetic problems repeatedly. Turning the abstract ideas explored in the simulations in a functioning and aesthetical physical model was vital. Making was dictating what was possible and what not –...
2 tags
3D Model of Movement
5 tags
Further analyses through modern methods - CAD/CAM...
Parametric model of a butterfly movement he vast development of technology makes possible detailed exploration of biological processes and behaviours - something that was a basic obstacle in the past. Computer aided design and manufacturing like simulations, animations, laser cutting, 3D printing were an important part of the development of the thesis and the movement was analysed, simulated...
Diagramming Movement Experiment 2 - Mapping Movement – Locomotion: Flying Definition of locomotion bionics: "Walking, swimming and flying as primary forms of movement. Interaction with the surrounding medium." The flight is a dynamic movement and has as a basic quality kinetic characteristics. Using the films I made I mapped the biological species locomotion and researched how exactly...
5 tags
Analyses
Experiment 1 – How to come into a possession of a butterfly in the 21st century As a first step for my research I needed to map the species movement in flight and explore their transformations therefore I needed a living organism. In opposition of the organic approach for design the thesis is about I used the most artificial process for providing with the insects. Speeding up all evolutionary...
6 tags
End of Year Exhibition, University of Westminster
4 tags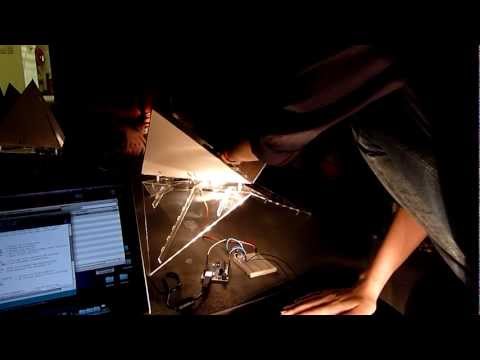 1 tag
"We want over and over again, movement and connection; we see peace only in..."
6 tags
Booklet Design Representing digital content in physical print and exploring different ways for corresponding animation sketches done in processing.js on paper.
4 tags
Mapping Butterfly Movement
5 tags
4 tags
Watch
Plant structures – deployable arrangement "Plants change their forms in response to light – petals open and shut, sunflowers track the sun – providing possible models for environmental control."  Where accidently or not the first term I designed a small prototype that was mimicking the unfolding of the petals in the plants – the device was a deployable structure reacting to light. The study...
4 tags
Drawing Device Movement
Exploring the initial movement of a device connected to Arduino
4 tags
First Negative
4 tags
Watch
Opening a Pyramid First prototype
4 tags
Lost in Blank Walls It is easy to lose one's self in a space or in a landscape where you do not have a point of reference. When there is nothing familiar or easily recognisable like an object or a landmark which can orientate you in space, the boundary between what is real and what is not is almost invisible. By positioning the cameras, which in a way show the observer's point of view...